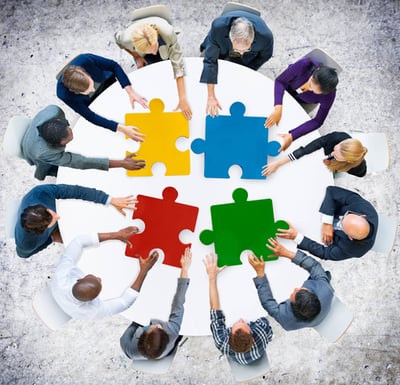 We mentioned in a previous post the different types of document management platforms available for small and medium sized businesses. Now, we're going to take a look at different tools available for real-time document collaboration. With real-time document editing tools, multiple users can work on the same document at the same time. This way all users can see who is editing what, track different versions, and collaborate in real-time regardless of if the whole team is in the office or in different locations across the world.
Instead of writing a document in a desktop application, saving it locally, then emailing back and forth with edits, real-time document collaboration platforms create more efficient content creation and editing processes. Here are a few different platforms that provide real-time document collaboration.
Microsoft Office 2016
Sharing documents is not a foreign concept for Microsoft. Since its introduction of SharePoint back in 2001, Microsoft has worked to improve document sharing and management for its users. With the release of its flagship office suite – Office 2016, Microsoft has built in new real-time document editing and collaboration options for the newest version of the desktop version of Office. It should be noted that in order to collaborate on files, users must save items to Microsoft OneDrive. However, once set up in OneDrive, users can create documents in the desktop version of Word and then share with other collaborators from within the Microsoft Word user interface.
A popup notification will appear after the document has been shared to show you who is working on the document. The best part about this feature is that it isn't specific to Word. Users can enjoy the same co-authoring capabilities on spreadsheets in Excel and presentations in PowerPoint.
Office 365
With Office 365 – the cloud, subscription-based version of Microsoft Office, users can access their files at any time on any device. Additionally, Office 365 has collaboration capabilities (through OneDrive). Now users don't have to worry about emailing documents around and losing track of the latest version. They can easily add, edit, and track comments and status updates on one version of the document in Office 365.
So how is Office 365 different than Office 2016? Both offer the award-winning Microsoft Office suite. Both have built-in real-time collaboration abilities. The difference is Office 2016 is a stand-alone, desktop application. Office 365, though it does have a desktop component, is hosted in the cloud which grants access to files across devices. Plus with the cloud-based subscription, users don't have to worry about upgrading every time a new desktop version is released – they constantly have access to the most recent version of the applications.
Google Apps for Work
Businesses that use Google Apps for Work are also able to access powerful collaboration tools for their documents, spreadsheets, and slide show presentations. Users can Google's "Chat" to communicate with one another and make decisions on what to do in the document at hand. Then users can edit in real-time. Each time someone makes an edit, addition, or subtraction the changes automatically appear on the screen with the name of the person editing next to their cursor so that you can see who is typing. Did we also mention that this real-time collaboration option is also available in the Google Apps mobile apps?