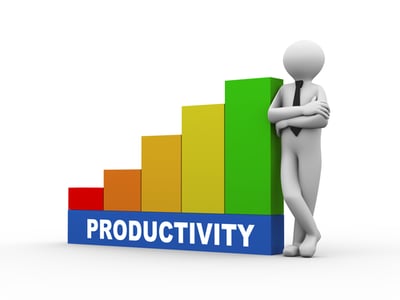 Gone are the days of heading downstairs to the file room and roaming through the aisles of file cabinets to search for a specific document. Most companies rarely print documents on paper anymore as everything is done digitally. As a result, a challenge that many businesses face these days is keeping all of their digital papers in order. From invoices, to letters and memos, to training manuals and reports; companies have thousands of documents that they need to keep filed neatly but also available at a moment's notice.
Storing documents on individual workstations means your employees have to waste time emailing attachments back and forth to share and collaborate on documents. Storing documents on a network drive does create a centralized location for keeping documents, but it usually requires that users be logged in locally in the office or take multiple steps to access the drive through a VPN. Luckily, there are plenty of document storage options that allow employees to easily store, share, and index and find documents in the cloud – which allows staff to access files whenever, wherever – which can drastically improve the productivity in your office by streamlining access to your important working files.
Here are some of the many document storage options available on the market today:
SharePoint
Since launching in 2001, SharePoint has been a leader in Enterprise Content Management (ECM). Not only does SharePoint provide a document storage platform, but companies can use SharePoint to build intranets and websites as well as workflow management and even business intelligence. Historically only large corporations implemented SharePoint, but as it is also offered online through Office 365, many smaller businesses are able to take advantage of the SharePoint web application platform.
Microsoft OneDrive
For offices on Microsoft Office 365, OneDrive is the ideal platform for storing Word Documents, Excel Files, and PowerPoint presentations. However, companies don't need to subscribe to Office 365 to enjoy the benefits on OneDrive. Businesses can purchase OneDrive access for as low as $1.99 per month for 100 GB of storage. Opting for the 1TB plan at $6.99 per month includes an Office 365 subscription. One of the best benefits of OneDrive is its integration with Microsoft Office Online. Users can create, access, and edit files in web application versions of Word, PowerPoint, and Excel – all through a web browser, without having to have the Microsoft Office Suite installed locally.
Google Drive
Although users may only associate Google Drive with the online storage platform associated with Google Apps, Google Drive does have a robust offline component. Businesses already using Google Apps for work can configure a Google Drive (or multiple Google Drives) online and then download the offline client to be installed locally. Any file moved to the local Google Drive folder is immediately synced with the cloud and other Google Drive folders stored locally on other machines. The best part, if an employee is offsite and needs access to a file, they can log in via any web browser or through the Google Drive app on their smartphone or tablet.
DropBox
DropBox operates similarly to Google Drive where a DropBox folder is installed locally and any items moved to or saved in the folder are automatically uploaded to the cloud and across DropBox folders installed on other work stations. Additionally DropBox has add-ons such as SendToDropBox which allows users to email documents directly to their DropBox. There are also email integration options with DropBox. Rackspace email for example, has DropBox built right in so users don't have to spend time exiting out of their email to find files in the DropBox to then manually attach to the email.
Box
Although similarly named to DropBox, Box was actually launched two years before DropBox was made public. Like the other platforms mentioned here, Box has desktop apps and mobile apps. It also includes a powerful administrative console for user and access management and creating content policies for regulatory and privacy purposes.