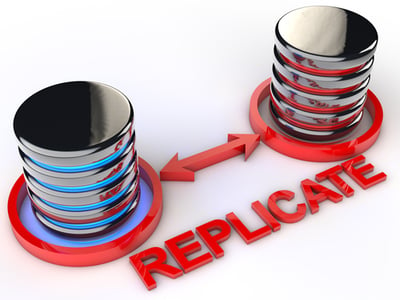 Many businesses have leveraged the power of the cloud and have migrated significant portions of their IT environments to the cloud (with some having moved everything to the cloud). However, not all companies have been able to move applications, data storage units, and other IT components to the cloud. Reasons vary either due to fear of moving data off-site, regulatory requirements, or simply not having the staff and resources to conduct a cloud migration.
Even if a company is unable to use the cloud on a daily basis, they can utilize cloud computing for business continuity purposes. By replicating mission critical servers in the cloud, businesses can keep the backbone of their IT environments operational at all times – so if a on premise server fails or a catastrophe happens damaging equipment or cutting the power supply, essential business function can continue to be executed in the cloud until the on-premise system is back up and running.
Here are just a few options for replicating mission critical servers in the cloud to support business continuity:
File Servers
Replicating Windows file servers can be achieved by implementing Microsoft Distributed File System (DFS). DFS replicates any Windows file servers to any other file server that is also running DFS. The secondary server could be another on-premise server or it could be a server in the cloud running on an IaaS platform such as Amazon Web Services or on Microsoft Azure.
Domain Controllers
For Microsoft Servers, a domain controller is a specified server that responds to security authentication requests. Any time a user logs-in to a workstation or server or checks permissions (on systems running a Windows Domain), the domain controller is responsible for handling the request. When a domain controller goes offline, access to any part of the system that requires authentication is restricted. To keep domain controllers active at all times, organizations can deploy at least one active director domain controller in each site (i.e. one on-premise and one in the cloud).
If using cloud provider to host a replicated domain controller, we recommend deploying at least one domain controller in each availability zone, which can be done via the cloud administrator dashboard.
Database Replication
Amazon Web Services offers Amazon Relational Database Service (Amazon RDS) which provides businesses with an easy way to set up, operate, and scale a relational database in the cloud. Even if your company prefers to run your database on-site, you can deploy a standby replica of the database to the cloud via Amazon RDS so in case the on-premise database goes offline, you can default over to the standby database in the cloud until the on-premise system recovers.
Full Server Protection
In IT, systems are designated a recovery time objective (RTO) based on the priority of each object. Mission critical business applications often require zero RTO, whereas a non-essential component such as an archive storage server may have a recovery time objective of say a few hours or even a day or two. For systems that require zero RTO, meaning they need to be back up and running as soon as possible, we recommend deploying an availability solution such as DoubleTake. DoubleTake replicates and entire Windows server including operating system, data, and applications to a standby server that can be powered on within minutes for a failover in the event of a server outage.
Are you interested in learning more about migrating mission-critical servers to the cloud? Or perhaps you want to move multiple systems to a cloud environment. Either way, Privo IT is here to help. Contact us today.