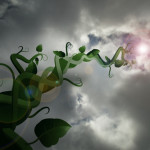 Most businesses these days have some sort of online component. While many just have a website for contact information and product or service descriptions, others rely on the internet to sell products via their ecommerce website, to collect customer data via fill-in fields, or to host web applications for their customers. For companies that have their own custom-built web applications, running these types of apps can be a real hassle. Not only do the internal IT teams have to oversee coding and application health, but they also are responsible for adjusting the server infrastructure to accommodate growing applications.
To make it easier on application developers (and to allow developers to spend more time coding rather than playing system administrator), Amazon developed AWS Elastic Beanstalk, a platform as a service that deploys, manages, and scales web applications. Built by Amazon and backed by the power of Amazon Web Services, Elastic beanstalk takes a lot of the headache out of running your own web application.
Here are some of the features of AWS Elastic Beanstalk
Automatic Scaling
Web applications often are built on top of databases that collect, store, and process user data. Any time an application gains a large group of new users, system administrators have to increase the size of the database to accommodate for the increase in data, or increase the number of web servers to handle the increase in traffic. To do so often involves reconfiguring software and adding physical hardware for more capacity. Companies want their web applications to grow in popularity in order to bring in more business. Yet in order to accommodate for more users, system admins have to scramble to make adjustments. AWS Elastic Beanstalk includes auto scaling so it continuously adjusts compute and storage capabilities to adjust for an increase (or perhaps decrease) in web application users.
Support for Multiple Application Code Languages
When it comes to building and coding web applications, there are multiple options for selecting a coding language to use. Luckily, AWS Elastic Beanstalk supports numerous application coding languages including: Docker, Java, .NET, Node.hs, PHP Python, and Ruby. Not only does Elastic Beanstalk support numerous coding languages, it also supports familiar servers such as Apache HTTP Server, Apache Tomcat, IIS, Nginx (pronounced Engine X), and Passenger. With so many options to choose from, developers can select the coding language and platform that works best for both their application and the business they are working for.
Whole System Control
A lot of the skepticism around cloud computing has to do with who has control over what in the cloud. With Elastic Beanstalk, users retain full control over the AWS resources that power the application including EC2, Simple Storage, and Simple Notification Service. Companies can maintain the level of control they would have over application processing, data, and system configurations for web applications hosted in-house all while taking advantage of the scalability, cost efficiency, and power of the Amazon cloud. Users have the option to control some or all of the elements of a web application right from the Elastic Beanstalk management console.